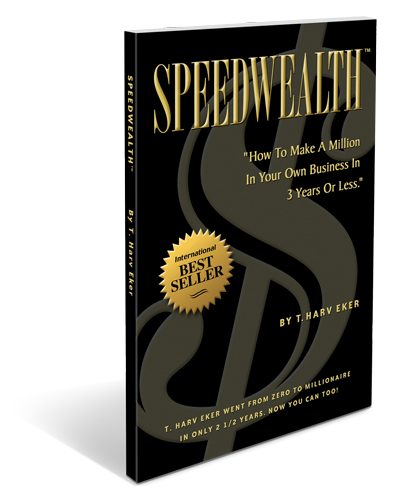 When you were growing up, did you ever hear "Money can't buy happiness"?
I sure did ... and it was usually from people who didn't have much money. (I think they were trying to make themselves feel better about being broke!)
Although I don't believe that
money guarantees happiness
(I suspect there are plenty of rich people who are miserable), I know it helps. Because
money can buy you the freedom to live life 100% on your own terms.
And THAT can make you very, VERY happy. ;-)
If you'd like more money so you can have the freedom to do what you want, do whatever it takes to watch this webinar (it's available on-demand, so you can watch when you want... ;-)
******************************************************

"SpeedWealth: The 8 Proven Principles for Creating Wealth Fast ... Even from Scratch"
Now available on-demand on Facebook:

******************************************************
SpeedWealth is a time-proven 8-step system for earning $1 million in 3 years or less with your own business. You'll learn exactly what all 8 steps are during the call and how to use them, whether you:
Already own a business and want to fully leverage every dime and minute you invest in it
Want to own a business and finally take full control of your financial future
Have a job, but want the security of knowing that you can succeed on your own if you ever leave your job (or it leaves you!)
Here's the agenda:
Why owning a business is pretty much required these days if you want to earn $1 million or more
The 2 foundational beliefs you must have to get rich quickly and legitimately
3 questions to consider when deciding whether the SpeedWealth approach is feasible for you or not
3 proven ways for service providers to break through the ceiling on your income ... especially if you are committed to continuing to trade dollars for hours
The 3-part principle that will get you half-way to your SpeedWealth goal ... almost without trying
The only 3 parts a business should consist of ... IF you want it to work like a well-oiled money machine
The key distinction that sets a SpeedWealth entrepreneur apart from most business owners ... and how to tell if you've mastered this
The 4 possible ways your journey with the SpeedWealth system will end .... and which is, by far, the most profitable (some people miss this ... and cheat themselves of both free time and extra money)
And much more! Watch the webinar now.
The Secret Behind "Overnight" Business Success
The SpeedWealth system is what Peak Potentials Founder T. Harv Eker used to make it his first million dollars. After trying (and failing at) 17 different business, he finally gave SpeedWealth a try.
He went from being $2,000 in debt to selling half his ownership shares in a company for a cool $1.6 million ... in just 2½ years.
These are the same principles used by fast-growing companies (think Groupon) to achieve "overnight" success.
The best part is that the webinar is f-r-e-e and you'll learn the whole system during the program.
Shut your door, turn off your phone and watch it now
:
P.S. What does "freedom" look like for you? To me, it's making work optional - working because I CHOOSE to, not because I HAVE to. Sound good?